Avoid frustration and panic due to last minute preparations, and being lost with some useful tips for first-timers traveling to Borneo.
Holidays are a great welcome after long office work days that can seem endless. For those of you planning to travel, come discover an exotic destination: the lush rainforests of Kalimantan in Borneo, the third largest island in the world after Greenland and Papua New Guinea.
Borneo then and now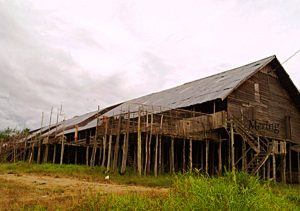 Borneo as described by early Europeans Müller (1825) and Dalton (1828), is vastly different from today. Shared among three countries, Malaysia, Indonesia and Brunei Darussalam parts of Borneo island is still covered with huge rainforest. Today, it is slowly being encroached by large scale palm oil plantation, mines, industries and residential homes.
Do not get upset just yet. If your goal is to seek adventure, there is still an untouched part of the rainforest especially at the borders of these three countries, known as the Heart of Borneo (HoB).
It is home to flora, fauna, and many rare species. HoB is also an important water catchment for the rainforest. If you wish to go on an adventure, come visit the rainforest with its unique inhabitants.
Finding a local guide
Using a tour and travel company is convenient, but it would be better to have a local Dayak guide. The majority of Dayaks live in Kalimantan (Indonesia) and Sarawak (Malaysia).
If you choose to go through Kalimantan and are not fluent in Indonesian, choose a local who can understand English.
Firstly, the guide can converse in the local Dayak dialect of which there are 405 sub-tribes (Tjilik Riwut, 1979). These are the tribes that live in Borneo, especially around HoB.
Secondly, Dayaks as described in Karl May's book, Winnetou, are expert hunters and trail readers. They will guide you safely while traveling through the rainforest.
With an expert guide, it is easier to immerse in the culture while learning the local dialects. For Dayak's still living in the rainforest, the place is their 7-11 mart. They pick fruits, leaves, mushrooms and hunt animals that can be eaten. If you happen to fall sick during a hike in the rainforest,they will find herbs that can cure you.
Learning from the monkeys
If you lose your guide while hiking in the rainforest, learn from the monkeys or orangutans (as told by a Dayak Elder of Ngaung Keruh longhouse, Kapuas Hulu).
Keep a look out for wild monkeys living in the trees. They are always about searching for food. All edible fruit and leaves eaten by the monkeys can be eaten by humans.
When you are thirsty and cannot find a water source or river, look for bamboo or dangling tree roots. To get clean water source, cut the bamboo or root. Water from tree roots has been known to be used by Dayaks to cure coughs.
Lastly, if you find yourself separated from your guide and lost without a compass, look for growing moss on tree trunks. Moss that is black and thick shows East (where the sun rise), and areas, where the moss grows sparingly, is where the sun sets.
Remember these quick survival tips, if you find yourself lost in the rainforest.
Have a happy holiday and a safe travel adventure ahead! (Mering)